What is Gross Profit?
Prior to discussing how to calculate gross profit ratio, let us define gross profit. Gross profit is the profit a company makes after deducting the costs associated with making and selling its products, or the costs associated with providing its services.
Gross profit ratio is a profitability measure calculated as the gross profit ratio to net sales. It shows how much profit the company generates after deducting its cost of revenues.
Importance of Gross Profit Ratio.
GP ratio gives the management a clear picture of how much capital they can reinvest.
Gross profit tells how a company is doing better or worse than its competitors because the higher the efficiency, the higher the gross profit.
It can attract or discourage the investors. A high gross profit ratio will make a company very attractive for potential investors while a low ratio typically means that, although the company may be generating high revenue numbers, it will require major restructuring to lower its spending.
Limitations of GP Ratio.
It does not consider the company's expenses usually charged to the profit and loss account.
It is only a passive indicator of the company's overall status.
Formula to Calculate Gross Profit Ratio.

Example:
A company made a gross profit amounting to $ 300,000. The value of the net sales for that financial period was $ 1,500,000. Determine the gross profit rate for that year.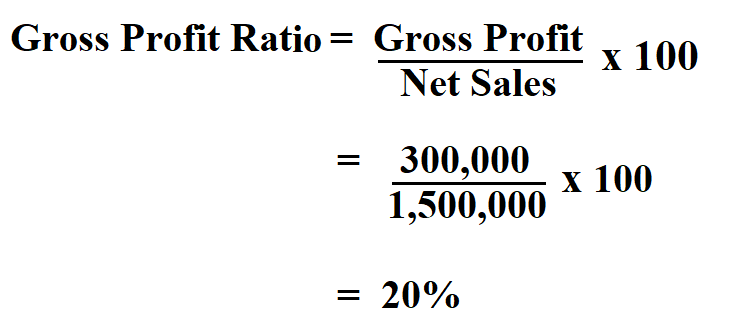 Therefore, the gross profit ratio is 20%. This means that 20% of every sales dollar represents profit before selling and administrative expenses.