What is Average Total Cost?
In order to understand average total cost, we first must understand the meaning of total cost. In economics, Total cost is the sum of all costs incurred by a firm in producing a certain level of output and is typically expressed as the combination of all fixed costs and all the variable cost.
Therefore, with this knowledge, we can define the average total cost(ATC) as the sum total of all production costs divided by the total quantity of output. In other words, the average cost is the combination of total fixed and variable costs, which is divided by the total number of units that are produced by the firm.
Average total cost is one of three average cost concepts important to short run production analysis. The other two are average fixed cost and average variable cost.
Uses of ATC.
ATC is commonly used to set the minimum value at which a price point should be set. Any price set below the average total cost will not allow a business to recover its costs, resulting in losses. It is also useful to track this cost on a trend line, to see how it is changing over time.
It is also used to determine the breakeven price of a specific good based on a certain level of output. If all units produced are sold using the breakeven price, the company or business organization will not be subject to any gains, nor losses.
The average total cost is assumed to have a U-shaped curve. Any additional quantity produced leads to a decrease in the average total cost. However, this holds true only for small quantities, but when the quantities are large, the average total cost increases.
Formula to Calculate ATC.
Calculating the average total cost is a relatively easy process once you identify your fixed and variable costs and the total number of goods you're producing.
Fixed costs are those costs that will be incurred, irrespective of the production level. The amount of variable costs incurred will vary directly with the number of units produced.
Total cost as we've already discussed, is the sum of the fixed and variable cost.

Example 1:
The total cost for producing 10 Samsung televisions is $ 100,000. Calculate the average total cost.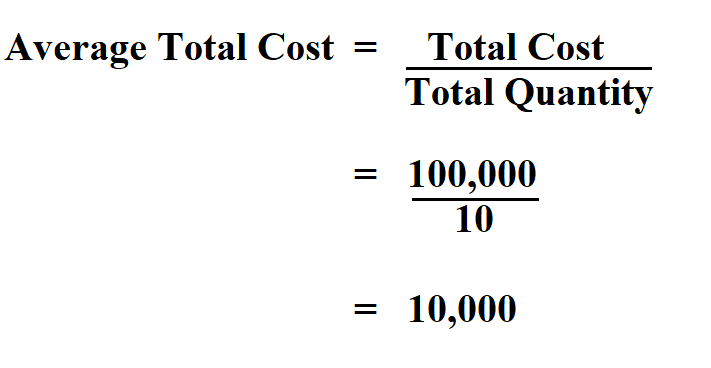 Therefore, the average total cost is $ 10,000.
Example 2:
Company A produces granite tables and has the following list of expenses:
Monthly rent of $5,000
Commission per unit sold of $15
Fixed salaries of employees of $25,000 per month
Granite, carriage bolts, and other materials $100 per unit
Monthly insurance premium of $1,700
Assuming that no charges are incurred by the company, calculate the average total cost of producing 1,000 units?
Solution.
Total fixed cost
= 5,000 + 25,000 + 1,700
= $31,700
Variable cost per unit
= 15 + 100
= $115
In this case, the quantity produced is 1,000 units.
Total cost = Total Fixed cost +Total Variable Cost
= 31,700 + (115 x 1,000)
= $146,000
Therefore, ATC = Total Cost ÷ Total Quantity
= 146,000 ÷ 1,000
= $146