Percentage increase is a measure of percent change, which is the extent to which a variable gains intensity, magnitude, extent, or value.
Percentage increase is for example used by companies to describe their success as an increase in profit levels.
Formula to calculate percentage increase.
Find the difference between the final and the initial value. The result is known as the increase.
Then divide the increase by the initial value and multiply the answer by 100.
Example:
The initial price of a pair of stilettos was $20. The price was increased to $23 due to high demand. Calculate the percentage increase.
We begin by finding the difference between the initial and the final value.

Then we divide the increase by the initial number and multiply by 100.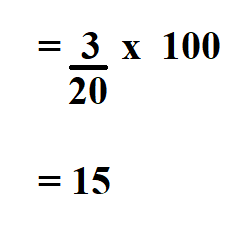 Therefore, the percentage increase of the price is 15%.